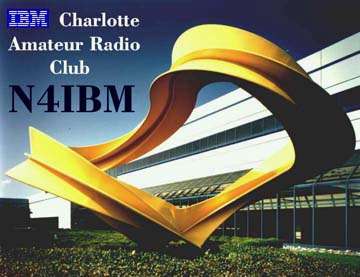 IBM Charlotte Amateur Radio Club
Revised: September 23, 2003 kf4uvo
Welcome to the IBM Charlotte Amateur Radio Club homepage. Our club is dedicated to the enhancement of amateur radio among the employees of IBM Charlotte.
Meetings
Our meetings are held the second Tuesday of each month during the lunch period at the IBM Charlotte 301 auditorium. Bring your lunch and enjoy the comraderie.
Officers
Activities
IBM Charlotte Club participates in Y2K exercise on 9/9/99.
A number of members participated in the midnight rollover from 9/8/99 to 9/9/99 communicating with other IBM sites on the 80, 40, 20 HF bands. They also demonstrated linking to local IBMers on 2 Meters during this exercise. Several management representatives were impressed with the professionalism and ability of this organization.
Club Station
The club is has a club call sign, N4IBM.
We've just completed installing a repeater antenna and have a 440 Repeater on the air. The antenna is located on the roof of building 201 and range is about 20 miles at this time. The output frequency is 442.650 with an 88.5hz tone. Standard + 5 MHz offset.
For HF, we have TWO ICOM 706 MkIIG radios with a 3 element TRIBAND beam, and a G5RV on top of building 201.
We can use one of the ICOM 706s to our dual band Comet Antenna for 2M or 440 operation. We also have a 2M antenna connected to an ICOM 27A.
Thanks to the cooperation of security, our Emergency Communications room has emergency power, 16Mbps Token Ring LAN, and 3 inch conduit to the roof.
TUCSON IBM AMATEUR RADIO CLUB HOME PAGE !!
ATLANTA IBM AMATEUR RADIO CLUB HOME PAGE !!